Race season is here, and as any marathoner will tell you, getting your gear and race day prep right is critical. It's critical because you've invested time and effort into transforming yourself (commonly known as training) into the athlete that you want to show up at the starting line on race day. Let's call this person "Training You". Training You spent hours trying different brands of trainers to find the perfect level of cushion, stability and brand fit. Training You learned (probably the hard way) about chafing and found socks, apparel and Body Glide to make all that chafe disappear. Training You experimented during your long runs with your nutritional needs from hydration to electrolytes to find the perfect balance for your body's chemistry and needs.
You've by now heard the adage "nothing new on race day" and what it comes down to is trusting the Training You. Do not question the apparel, shoes, gear or nutrition you've spent months perfecting, but rather spend the next few weeks before the race making sure your gear is in great condition, broken in and fully stocked.
Here's a quick checklist to help:
Race Day Shoes
Assuming you've got a few weeks till race day, get a new pair of your favorite Brooks, Saucony, Hoka, New Balance or whatever your foot likes, now. A good rule here we get asked about all the time is a break-in period of two to three weeks. Running a marathon or half in a brand new pair of shoes is just asking for trouble - don't do it. For distances like this, always go at least half a size bigger than your bigger foot and use a lace lock to secure any heel slip. If you're the guy bragging about losing toenails during your last marathon, we are not impressed.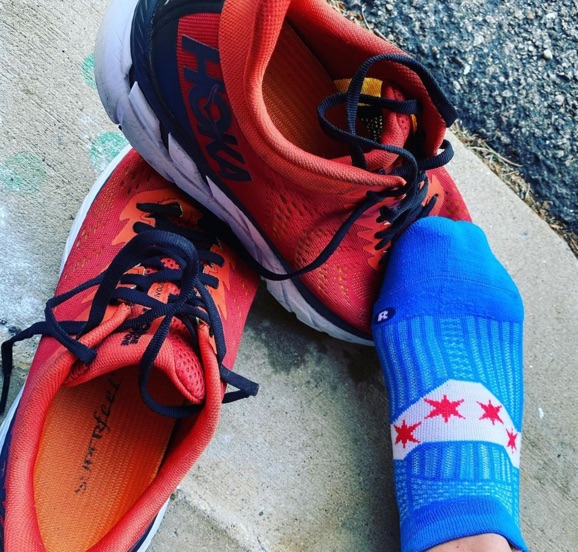 Nutrition
You know what will work for your body in terms of digestion and energy. It's usually some combination of gels or chews by Gu, Hammer, Clif or Huma with straight water, or some electrolytes supplied via Nuun. During your long runs you should have established timing for taking your nutrition, something like "fifteen before every forty five." The most important concept with nutrition is to listen to your body. A good sign for example that you need more electrolytes is 'dead legs' where your legs cramp up or just feel not warmed up anymore where at a certain distance. Also, if you plan to go bottle-less during the event, make sure whatever race you are running has the same products available at the aid stations. Make sure you practice storing your nutrition in your belt or gear of choice, it should be accessible without needing to stop or slow down.
Clothing and Accessories
If you've been to one of our stores, you've already heard us say it: "Cotton is rotten". Don't put anything cotton anywhere near your skin while you're working out, let alone at distances of half and full marathons. At this point in your training, this should be a given.
By now you should be finding specific types and brands of moisture wicking clothing that work best for you. For example, what style of running bra works best for long runs? Men, do your thighs prefer a two in one short with built in compression shorts, or do you go minimal with a basic liner? Much depends on race day conditions as well. Will it be cold at start, and warming up in the three hours you'll be running? Are you running east for a majority of the beginning of the race with the sun in your eyes? A long brimmed sweat absorbing hat or sunglasses might be a good idea. Planning on an arm band or belt for the race? Make sure you've tested it on your long runs and adjusted it for the perfect fit. Usually you want it a bit tight at start as it will loosen a bit over time, and the less time you have to stop to adjust during the race, the better.
A final word here, the sock/shoe combination that you've discovered works for you matters. Don't change socks the day of the race, even a different pair of the same brand. Use the same socks with the same shoes that you've used for your most successful training long runs.

Injury Prevention and Recovery Equipment
By this point in your training, you're well acquainted with injury prevention and recovery products. Unless you are a superhuman, rollers, compression, KT Tape, and more have likely come into your world as you kept your body healthy against the amazing things you've been asking of it. At this stage, you've got your pre and post run routines, and race day won't be any different. You might need to refresh your favorite pair of compression sleeves or socks, or check and make sure your Trigger Point massage gun is plugged into the charger. Timing here is important here pre-race in order to give yourself plenty of time to roll or otherwise do mobility exercises before the race, locate gear check, etc for whatever you need to pack. Speaking of packing, do that the night before, pre-dawn scrambling to find your Garmin watch or favorite socks in the dark is something you want to avoid. Consider a pair of Hoka or Oofos recovery slides or flips for after the race to take a little sting out of that post race hobble.
Race Day You will be filled with butterflies, nervous and excited for the day when you get put to the test. It's easy to second guess yourself, but do not. Trust the Training You and put your well tested and thoughtful plan into action. Stick to the plan and you'll do great. Have questions? Nearly everyone on our staff has run a marathon or half marathon and we LOVE talking about it, just ask us for tips and pointers. Good luck, and share those finisher medal pics with us on the socials!